INGREDIENTS
| | | |
| --- | --- | --- |
| Sl No: | Item Name | Quantity |
| 1 | Carrot | 50gm |
| 2 | Beans | 50gm |
| 3 | Cabbage | 50gm |
| 4 | Capsicum | 50gm |
| 5 | Baby corn | 50ml |
| 6 | Oil | 20ml |
| 7 | Ginger | 3gm |
| 8 | Garlic | 3gm |
| 9 | green chilly | 2gm |
| 10 | Onion | 10gm |
| 11 | Salt | to taste |
| 12 | chilly paste | 3ml |
| 13 | Tomato sauce | 10ml |
| 14 | Chilly sauce | 5ml |
| 15 | Soya sauce | 3gm |
| 16 | Spring onion | 2gm |
| 17 | Celery | 4gm |
| 18 | corn flour | 50gm |
| 19 | Refined flour | 50gm |
| 20 | Black pepper powder | 10gm |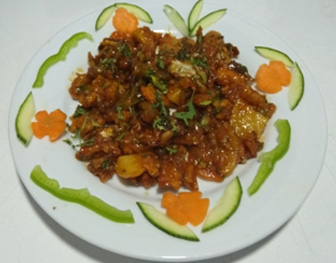 COOKING INSTRUCTIONS
Mix corn flour, refined flour, ginger-garlic paste, salt and black pepper powder in a bowl with enough water to make a thick batter.
Add the vegetables and mix so that all the vegetables are well coated
Heat enough oil in a wok and deep fry the vegetables. Drain on absorbent paper and set aside. .
For the sauce heat two tablespoons of oil in a pan. Add garlic, ginger, celery, spring onions and green chilies and sauté for a minute
Add soy sauce, red chilli sauce, tomato ketchup, salt and black pepper powder and sauté for half a minute.
Add all the fried vegetables and mix well. Serve hot.